Celtic Illusion – The Magic Returns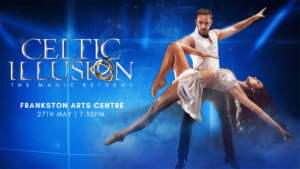 Experience the awe-inspiring Celtic Illusion, a sensational fusion of Irish dance, Grand Illusion, and iconic styles like Fosse and Michael Jackson. The Magic Returns tour in 2023 promises mind-blowing illusions, captivating choreography, and a mesmerizing musical score. Starring former lead dancer from Lord of the Dance and illusionist Anthony Street, this unparalleled theatrical masterpiece will leave you spellbound. Don't miss out on one of the world's most unique Dance and Illusion shows—book now! We can help you make this event if you're from out of town, click here for our short term accommodation options.
Date & Time: Wednesday, 21 June 2023 @ 07:30 PM
Cost: From $69.90
Venue: Broken Hill Civic Centre
Unless otherwise stated Westhaven has no affiliation with the above event and it's listed here for convenience only. We offer no warranty or guarantee on the accuracy of the above information. We encourage you to visit the official event page and rely on its information instead.