International Wrestling Australia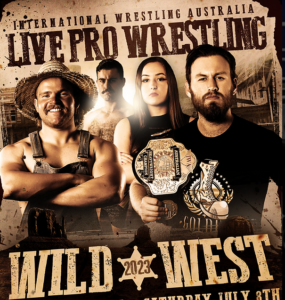 Experience the ultimate adventure for the whole family at International Wrestling Australia - IWA Pro Wrestling! Step into an extraordinary world filled with non-stop action and excitement. Get ready to be blown away by heavyweight matches, thrilling women's matches, captivating tag team battles, and awe-inspiring daredevils. This live show is a body-slamming, bone-crunching spectacle that guarantees to leave you wanting more. Combining the intensity of sports entertainment with elements of theater and comedy, IWA takes the 100+ year old Australian pro-wrestling circuit to new heights of fun and thrills. With a rich history of performing at numerous venues across the country, IWA has become synonymous with action-packed and highly entertaining live shows, and now it's Dubbo's turn! The talented team behind International Wrestling Australia has brought their electrifying performances to over 1000 pro wrestling shows. From the iconic Wonderland Sydney Theme Park to prestigious events like the Sydney, Melbourne, and Canberra Royal shows, their unmatched expertise in delivering an unforgettable experience is renowned. They have even taken their show overseas, captivating audiences in Tahiti and New Caledonia. These incredible entertainers, weighing in at 250 pounds and more, possess extraordinary strength and endurance. They endure relentless attacks, enduring being jumped on, thrown down, pushed over, and kicked for up to half an hour, only to rise again and deliver another astounding performance the very next night. Don't miss out on this incredible opportunity! Whether you're a lifelong fan or a curious newcomer, International Wrestling Australia welcomes everyone to witness their awe-inspiring shows. Prepare to enter with curiosity and leave as a dedicated fan - we guarantee it! We can help you make this event if you're from out of town, click here for our short term accommodation options.
Date & Time: Saturday July 8th, 2023 @ 8:00 pm
Cost: Adults $22, Children (15 Years & Under) $17, VIP Tickets $27 Adult & Child
Venue: Dubbo RSL
Unless otherwise stated Westhaven has no affiliation with the above event and it's listed here for convenience only. We offer no warranty or guarantee on the accuracy of the above information. We encourage you to visit the official event page and rely on its information instead.