Jade Hurley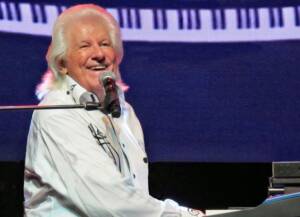 Johnny Cash, a legendary musician, stated that Jade Hurley OAM was the best act he had ever worked with. In the Irish Press, Cash was quoted saying: "If I wasn't who I am, I would find it very hard to follow him on any stage anywhere in the world … he's one hell of a showman and entertainer this Aussie … and he can sure play that damn piano". As soon as Jade hits the stage, he gets the party started and has a blast with the audience. They all clap, stomp, and sway to the music, singing and laughing along to Jade's comedic performance. His show includes some classic hits like "Rockin' All Over The World," "Old Time Rock & Roll," "Running Bear," "Peggy Sue," "Great Balls Of Fire," "Runaway," "You Raise Me Up," and his own piano instrumental "Chariots Of Fire." And of course, he performs his number 1 hits like "Down In The Riverina," "It's All Over Now," and the latest hit from his super popular "NAKED" album, "I Don't Look Good Naked Anymore." We can help you make this event if you're from out of town, click here for our short term accommodation options.
Date & Time: Sun 19 Feb 2023, 02:00 PM
Cost: $25
Venue: Dubbo RSL
Unless otherwise stated Westhaven has no affiliation with the above event and it's listed here for convenience only. We offer no warranty or guarantee on the accuracy of the above information. We encourage you to visit the official event page and rely on its information instead.