The Umbilical Brothers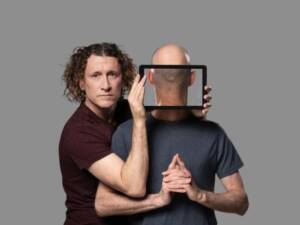 Here's a casual rewording of the original text: Do you love staring at screens? Are you doing it right now? You should probably go outside more, especially to a show that has a huge screen in the middle of it. The Umbilical Brothers combine the excitement of live performance with the visual spectacle of cinema in a brand new show that happens on stage and on the big screen at the same time. It's like nothing you've ever seen, and it's going to blow your mind in ways you can't even imagine. This show, called "The Distraction," is perfect for all you screen addicts out there. The Umbilical Brothers are an international comedy sensation. Their unique blend of hilarious comedy and acrobatic physicality has taken these Australian comedians to 40 countries, performing in arenas for audiences ranging from Robin Williams fans to N*Sync fans. We can help you make this event if you're from out of town, click here for our short term accommodation options.
Date & Time: Friday 03 February 2023
Cost: From $49.90
Venue: Dubbo Regional Theatre and Convention Centre
Unless otherwise stated Westhaven has no affiliation with the above event and it's listed here for convenience only. We offer no warranty or guarantee on the accuracy of the above information. We encourage you to visit the official event page and rely on its information instead.