The Vallies (Frankie Valli and the Four Seasons Tribute)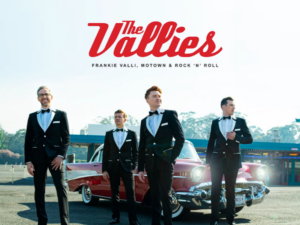 Introducing The Vallies, an exuberant and captivating tribute act dedicated to honoring the legendary Frankie Valli and the Four Seasons! Prepare to be transported to the swinging 60s as this talented all-Australian cast delivers unforgettable renditions of timeless classics such as "Oh What A Night," "Sherry," "Big Girls Don't Cry," "Can't Take My Eyes Off You," and many more chart-toppers. Get ready to relive the magic of those boys from Jersey with this spectacular production. The Vallies not only pay homage to the Four Seasons but also celebrate the iconic boy bands of the 1950s and 60s, including The Drifters, The Temptations, and The Righteous Brothers. And that's not all! Brace yourself for an electrifying showcase of Motown's greatest hits and even a nod to the legendary Bee Gees. Don't miss this sensational journey through the golden era of music, brought to life by The Vallies and their extraordinary performances. It's a show that will have you singing, dancing, and reminiscing in pure joy. We can help you make this event if you're from out of town, click here for our short term accommodation options.
Date & Time: Sat 16 Sep 2023, 08:00 PM
Cost: 30.00 - $35.00
Venue: Bathurst RSL Club Auditorium
Unless otherwise stated Westhaven has no affiliation with the above event and it's listed here for convenience only. We offer no warranty or guarantee on the accuracy of the above information. We encourage you to visit the official event page and rely on its information instead.