The Wiggles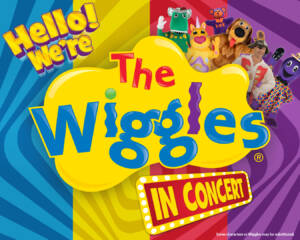 Following the runaway success of last year winning the converted ARIA for 'Best Live Act' The Wiggles are bringing their all singing, all dancing stage show hit to a venue near you! Hello! We're The Wiggles will run from March through to June of this year featuring hit songs 'Do the Propeller!', 'Hot Potato' and 'Rock-a-Bye Your Bear' plus new favourites that will have you up and dancing along such as 'We're all Fruit Salad', 'Getting Strong!' with John and get ready to feel the sunflower power with 'Hey Tsehay!' Anthony, Tsehay, Simon, Lachy, Caterina, Lucia, Evie & John will be joined on stage by all your favourite characters including Captain Feathersword, Dorothy the Dinosaur, Wags the Dog, Henry the Octopus, Shirley Shawn the Unicorn and Bok the Hand Puppet! There's never been a better time to see the world's most popular children's entertainment group live in concert, but hurry tickets will sell like… Hot Potatoes! Double the line up, double the fun with "Hello! We're The Wiggles" Live in Concert! We can help you make this event if you're from out of town, click here for our short term accommodation options.
Date & Time: April 28th 2023, 10am, 12.30pm and 2.30pm
Cost: $32pp
Venue: Dubbo RSL
Unless otherwise stated Westhaven has no affiliation with the above event and it's listed here for convenience only. We offer no warranty or guarantee on the accuracy of the above information. We encourage you to visit the official event page and rely on its information instead.